Group Exercise Instructor
Male CrossFit Coach - Job Post
We are on the lookout for experienced male CrossFit coaches for the coaching and security of VIP clients. This is a unique role, whereby the candidates would be required to coach CrossFit sessions and protect the employer and clients, and their assets from a variety of hazards. No prior security experience is required for this role. Training will be provided to you.
Principal Accountabilities:
Protect, watch over, and secure necessary spaces and/or assets
Exhibit a strong physical and authoritative presence that will help deter criminal activity
Conduct frequent security checks by patrolling the perimeter and grounds Remain vigilant for anything unusual or potentially threatening
Recognize potentially dangerous situations and respond in the safest and most effective manner
Help, defend, and protect those in need
Investigate and remove trespassers/violators
Capture and detain perpetrators if further action needs to be taken
Monitor and control gate/door access for vehicles, workers, etc.
Secure spaces and ensure safety for those inside (lock doors, close windows, etc.)
Watch security cameras for suspicious activity
Set alarms as needed
Act as a security escort or bodyguard to client and VIP visitors
Sound alarms and/or call for outside assistance when needed in emergencies (police, fire, ambulance care, etc.)
Write, maintain, and present detailed reports, noting any damages, theft, and/or other irregular activity
Conduct scheduled CrossFit sessions weekly.
Travel to Europe as a security escort and guard occasionally.
Job Requirements:
Qualifications: 
2-year diploma or 4-year college degree preferred
Experience: 
CrossFit coach – No Security experience needed
Abilities: 
- Alertness and attention to detail: always alert and aware of his surroundings. 
- Honesty and integrity 
- Is trustworthy and reliable, and always seeks the employer's best interest.
Personal Skills:
- Communication  in Arabic – English as well (preferred and not required)
- Interpersonal skills
- Problem-solving skills
Technical Skills:
- First aid Skills – Preferred
- Martial Arts – Black belt – Not required
- Skilled in using weapons  - Not Required
(The above is preferred and is not a requirement. The main requirement is to be a CrossFit coach)
Mandatory:
Applicants applying for this role need to please add required information onto their CV:
*Personal Head shot photo at the top of first page of CV.
All of the information below to be added into the first paragraph of CV please.
*Nationality and place of residence
*Martial status
*Height and Weight
*Current and Expected Salary monthly
* 2x Full length body photo or CrossFit workout photo at the end of your CV
*Availability and part time or full time
*In PDF Format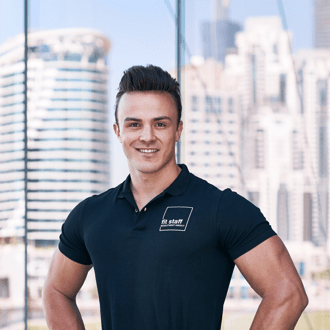 Related jobs
Why work with us?
Enterprising

We work as your agent to find the right fit for you. We do the work by identifying talent for the fitness client that we are the provider for. Once we have connected with you, we will present and showcase your profile.

Communication

With our platform in place, you will be informed every step of the process If we say we will keep you updated, we will. We know how frustrating poor communication is. Whether by email, message or phone, you will know what is happening.

Efficiency

By working with Fit Staff Recruitment Agency we save you time and effort by acting as your agent to identify job roles that are the right fit for you.

Experienced Team

Our team have worked in the fitness and service industry and are passionate about health and fitness.We take time to understand the job requirements we are recruiting for and can identify the perfect fit for you.
Our approach to recruitment
OUR APPROACH is to identify the ideal fitness professional and fit them into their model position.
We spend the time connecting with the candidate. By doing this we save you the client, time and investment by acting as the agent to find the right fit for the franchise, private, public and commercial sectors. And for the candidate, we aim to look
Already working at fitstaff?
Let's recruit together and find your next colleague.