Head CrossFit Coach / Operations Manager
Our client is currently expanding their team and are looking for an experienced, inspirational leader (male or female) to join as Head Coach / Operations Manager.  
They are focused on building healthy communities by providing functional fitness programs tailored to the demographics of the surrounding area. They pride themselves on providing first-class coaching in first-class facilities. 
The Head CrossFit Coach / Operations Manager will work closely with the Box Manager to help build a happy, healthy environment for their coaches and members. He/she will also be responsible for:
Creating the right programming for the facility and community
Overseeing class structure and specialised programs to ensure they complement each other
Supporting the coaches to deliver the programming in a safe and consistent manner
Continually developing the current team through workshops and training
Supporting in the recruitment of new staff when needed
Managing current gym operations and building new client relationships
Constructing member workshops and additional program / boot camps in line with demand
Developing the On-Ramp Program and a Competitor Class Program 
Assisting in the scheduling of different seminars i.e Crossfit Seminar, CF L1, Strongman, Gymnastics …..
Organization of local competitions, to increase the exposure of the box
Overseeing and approving competition list for coaches in line with Arena guidelines
Your Primary Functions 
Day-to-day operations to include:
Opening and/or closing facility 
Ensuring and maintaining cleanliness and safety of the gym, equipment tidied away and stock-take conducted fortnightly
Managing the coaching team (creating rotas, ensuring timely attendance, preparation for class, coaching standards etc)
Identifying equipment maintenance issues, new equipment needed and working with Box Manager to resolve
Coaching multiple classes each week of CrossFit, and Fundamentals Course classes 
Spending time with members in the box to build the community before and after classes
Coaching a minimum of 2 personal training sessions per day
Requirements 
Must be a "team player" and be willing to spend significant time in and around the gym 
Coach 10-15 classes each week 
Must be willing to workout regularly at the gym 
Must have the ability to effectively and efficiently handle multiple ongoing tasks 
Must have a desire to form strong relationships with coaches, owners, clients, and partners 
Should be good at relationship building with other boxes to create a strong network
Must be highly motivated and responsible
Should be prepared to program for and help organise throwdowns and other competitions as agreed with the management team
Qualities needed
Leadership, ethical, team-player, hardworking, creative, problem-solver, positive, passionate, trustworthy & flexible.
Qualifications
We are looking for applicants with a minimum of 5 to 6 years of CrossFit coaching experience with multiple certifications and continuing education history. CrossFit L-1 is the minimum requirement, CrossFit L- 2 is preferred.
The successful candidate will also have some managerial experience and be both comfortable and effective when managing and developing people.
Experience with Microsoft Office, including making and utilizing spreadsheets and reports, is desired along with a high level of communication skills. \
Reporting Structure: Report directly to Operations Manager. The formal appraisal will be conducted quarterly. We offer excellent long-term growth opportunities for the right person.
Package
Air ticket
Visa 
Medical
Basic + commission
**All Applications close 31st October 2021.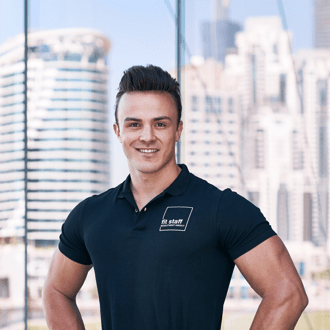 Why work with us?
Enterprising

We work as your agent to find the right fit for you. We do the work by identifying talent for the fitness client that we are the provider for. Once we have connected with you, we will present and showcase your profile.

Communication

With our platform in place, you will be informed every step of the process If we say we will keep you updated, we will. We know how frustrating poor communication is. Whether by email, message or phone, you will know what is happening.

Efficiency

By working with Fit Staff Recruitment Agency we save you time and effort by acting as your agent to identify job roles that are the right fit for you.

Experienced Team

Our team have worked in the fitness and service industry and are passionate about health and fitness.We take time to understand the job requirements we are recruiting for and can identify the perfect fit for you.
Our approach to recruitment
OUR APPROACH is to identify the ideal fitness professional and fit them into their model position.
We spend the time connecting with the candidate. By doing this we save you the client, time and investment by acting as the agent to find the right fit for the franchise, private, public and commercial sectors. And for the candidate, we aim to look
Already working at fitstaff?
Let's recruit together and find your next colleague.