Female Fitness Instructor / Personal Trainer - Job Post
We are seeking enthusiastic, skilled, and inspiring Female Personal Trainers (with a sports degree) to join our growing fitness team. The purpose of the position is to lead, instruct, and motivate individuals or groups of different physical abilities in exercise activities, including cardiovascular exercise, strength training, and stretching. 
Duties and Responsibilities
Demonstrate how to carry out various exercises and routines
Watch trainees do exercises and show or tell them correct techniques to minimize injury and improve fitness 
Give alternative exercises during workouts or classes for different levels of fitness and skill 
Monitor trainees' progress and suggest any necessary adaptions to the programs as needed, to program supervisor/coordinator. 
Explain and enforce safety rules and regulations on fitness training and the use of exercise equipment. 
Give trainees information or tips on nutrition, weight control, and lifestyle issues. 
Provide remedial training for overweight, unfit and/or injured trainees. 
Give emergency first aid if needed. 
Administer standardized physical assessments and testing. 
Any other reasonable tasks that may be required from time to time.
Requirements and Qualifications
Qualification/Education:
Higher degree in physical education or a sports-related field is essential
Physical Training Certificate from a reputable organization such as American Council on Exercise (ACE) or Central YMCA Qualification (CYQ) with an equivalent of REPs level 3. 
First Aid & CPR Certified
Work Experience:
Minimum of 3-5 years of coaching experience.
Knowledge and Skills:
Training scheduling and programming
First aid & CPR skills 
Excellent knowledge of anatomy, physiology, training methodology and sports psychology 
Good interpersonal skills 
Customer-oriented 
Good time-management skills 
Good communication skills (oral)
*Eastern European candidates advantageous
APPLICATIONS FOR THIS ROLE WILL CLOSE 31st OCTOBER 2021.
Department

Locations

Abu Dhabi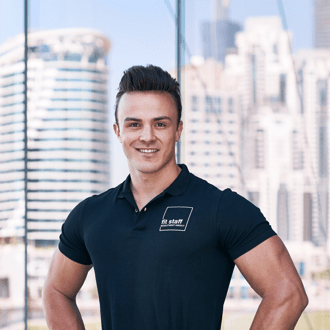 Related jobs
Why work with us?
Enterprising

We work as your agent to find the right fit for you. We do the work by identifying talent for the fitness client that we are the provider for. Once we have connected with you, we will present and showcase your profile.

Communication

With our platform in place, you will be informed every step of the process If we say we will keep you updated, we will. We know how frustrating poor communication is. Whether by email, message or phone, you will know what is happening.

Efficiency

By working with Fit Staff Recruitment Agency we save you time and effort by acting as your agent to identify job roles that are the right fit for you.

Experienced Team

Our team have worked in the fitness and service industry and are passionate about health and fitness.We take time to understand the job requirements we are recruiting for and can identify the perfect fit for you.
Our approach to recruitment
OUR APPROACH is to identify the ideal fitness professional and fit them into their model position.
We spend the time connecting with the candidate. By doing this we save you the client, time and investment by acting as the agent to find the right fit for the franchise, private, public and commercial sectors. And for the candidate, we aim to look
Already working at fitstaff?
Let's recruit together and find your next colleague.